Enhance fleet safety with electronic vehicle inspection reporting
What is a DVIR? (Driver Vehicle Inspection Report)
Commercial motor carriers perform a Driver Vehicle Inspection Report (DVIR), before and after every trip to meet safety compliance regulations. Drivers "circle check" the vehicle looking for any mechanical defects that would make it unfit to drive.
A DVIR normally includes checking equipment such as brakes, lights, tires and wipers. By law in the U.S., carriers must keep their DVIRs on site for at least three months. If a commercial vehicle fails a roadside inspection, it can be removed immediately and may be subject to costly downtime and a hefty fine. That's why daily circle checks are normally part of a company's broader safety program. Safety is everyone's responsibility and performing regular circle checks ensures vehicles are ready to hit the road.
How High Point GPS vehicle telematics simplifies Driver Vehicle Inspection Reports
It's time to put down the pencil and clipboard and say hello to electronic Driver Vehicle Inspection Reports (eDVIRs). With High Point GPS Drive, pre and post-trip inspection reports become automated through a user-friendly mobile app.
Using a smartphone or tablet, drivers are auto-prompted to perform daily inspections with a pre-loaded equipment checklist. If a problem is detected, drivers can take a photo of the issue and attach it directly to their report. Critical defects are flagged for attention and sent to the web application for the fleet supervisor for review.
HIGH POINT GPS
Go paperless with our Mobile App for DVIR
Performing daily vehicle inspections (or "circle-checks") is critical when it comes to keeping fleet maintenance and driver safety in-check. Whether you're a commercial motor carrier or manage a service fleet of vehicles, completing pre and post-trip inspections is always a top priority before hitting the open road. High Point GPS makes fleet compliance easier than ever through its intuitive driver vehicle inspection reporting (DVIR) logging and certification process. With built-in DVIR prompts, both pre and post-trip, fleet supervisors can rest assured their drivers are meeting compliance with access to real-time data. Our Mobile App streamlines DVIR administrative tasks and puts drivers back on the road faster.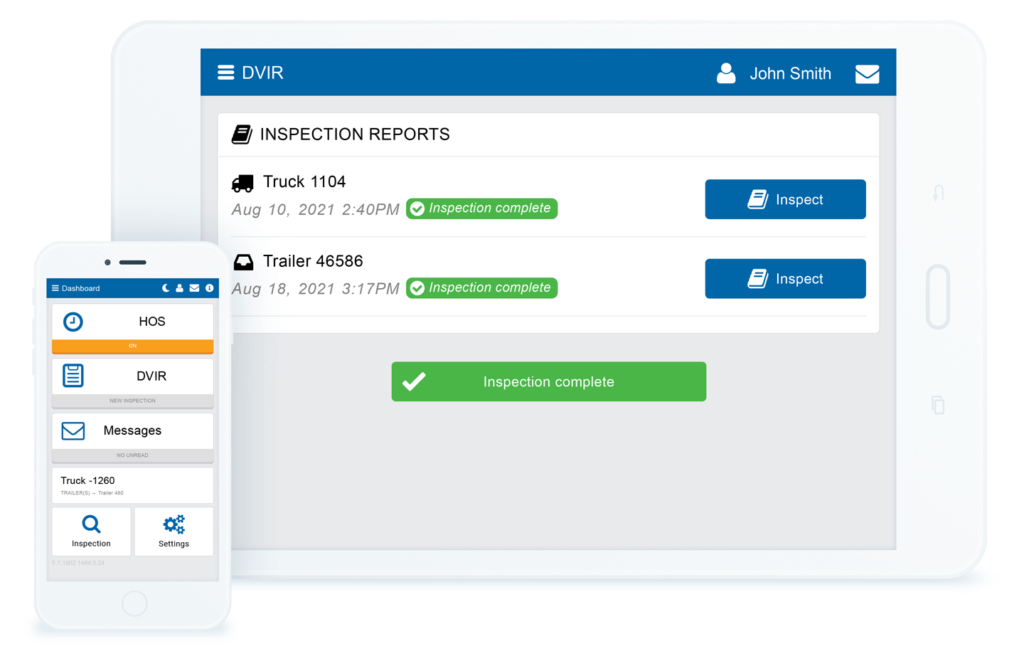 Benefits of automating DVIR submissions with High Point GPS

Get back on the road faster with automated pre and post-trip mobile notifications. Fleet managers are immediately notified about any defects or failed reports.

Identify vehicle issues faster with built-in image upload capabilities. Supervisors can review the images and resolve the problem quickly.

Forget keeping track of multiple forms and checklists. All vehicle inspection reports can be easily submitted throughour Mobile App.
HIGH POINT GPS
Increase safety and productivity with streamlined DVIR
When a vehicle defect is detected it's pretty tough for fleet managers to resolve the problem quickly when it's scribbled on a piece of paper. When it comes to keeping manual records, human error can lead to missed vehicle damage and upkeep.
With our DVIR feature, drivers and fleet managers can stay on top of their records with real-time accessible data. Now fleet managers can resolve any defect immediately and prevent accidents or further damage to the vehicle. A well-executed Driver Vehicle Inspection Report process is critical to keeping everyone safe on the road.
Don't miss our weekly updates about technology information
Latest News About Fleet Tracking